BRAND NEW Summer Packages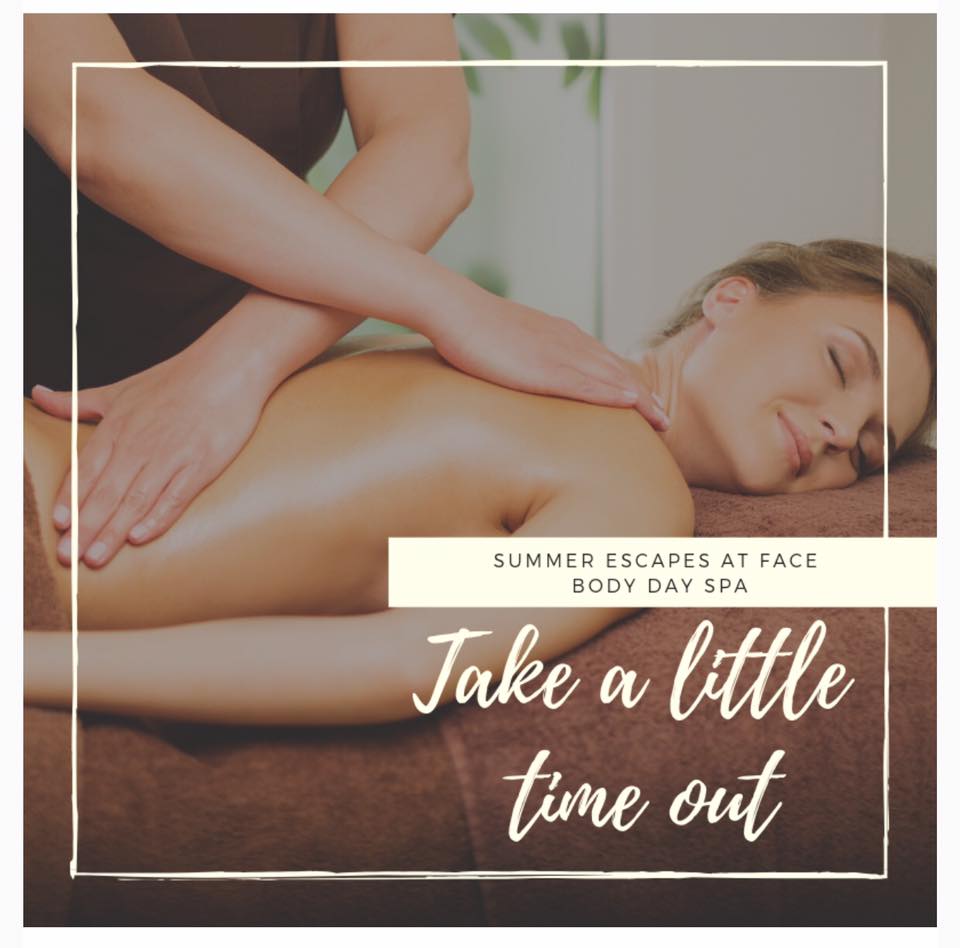 This time of year certainly can be busy and a little overwhelming ??
There's so much to do, a social calendar full of events, work and then finally summer holidays ???
But it's also important to make sure we don't burn out ??‍♀️??‍♀️??‍♀️
As you know we are all about encouraging self love and care here at Face Body Day Spa, because we know how much of a difference it can make, to have some time out to just relax. It's actually very good for you!
And to make self care easier for you this month (and to celebrate the first day of SUMMER ???) we wanted to share our BRAND NEW Summer Packages with you!
Each of them are designed to help you relax, unwind and make you feel like you've just been on a tropical holiday ?
So we hope you love them as much as we do!
Sensational Summer Pedicure $99
One hour of pure feet treats!
Our pedicures are not like any other pedicure out there! We make it an indulgent experience where you get to lay back in the comfort of your own room, relax and even nod off if you wish, all while we pamper you to perfection.
Your Sensational Summer Pedicure includes:
? Steam Therapy for the soles of your feet
? Delicious summer foot scrub and rough skin removal
? Invigorating lower leg & foot massage
? Tropical treatment mask
? Soothing & cooling collagen eye mask during pedicure
? Your choice of either a hand or scalp massage
? Shellac gel polish to finish
Your feet will be perfectly polished for your summer sandals and you'll feel refreshed and ready for the party season!
Sensational Summer Skin $99
One hour of pure luxury for your skin! It's important to look and feel your best for the summer season and what better way to do so then with our Sensational Summer Skin Facial!
Your Sensational Summer Skin includes:
? Welcome massage of the neck, shoulders & arms
? Deep skin cleansing & consultation
? Resurfacing Peel
? Indulgent facial massage
? 24k Gold Collagen Eye Mask
? Hot Coconut Oil Hair Treatment
? Brightening treatment mask & moisturise
? Eyebrow Tidy
Your skin will feel refreshed and glowing, ready for the party season!
Sensational Summer Massage $149
One hour of pure relaxation awaits!
Our therapists will take you on a journey that will have you floating away in paradise. Your Sensational Summer Massage includes:
? Summer body scrub
? 1hour tropical body massage
? Body butter to leave your skin soft and smooth
Your skin will be left soft & supple ready for the summer season.
BONUS OFFER
Because we LOVE you guys and are so grateful to you for your support during 2018, we are going to spoil the first 10 clients to book in with any of the above packages to a FREE take home Self Love Gift Pack valued at over $40 ??
Just comment 'book me in' below and we will PM you!
See a package you'd love to spoil someone with for Christmas?
Sure thing!
Just let us know you'd like to buy one as a gift ?
And remember if there's anything we can do to help you during the Christmas period, just let us know.
We are here to help ?