Why a Spring Clean for your Skin is just what it needs after Winter. Let us tell you all about our Spring Glow Facial and the benefits of cleaning out your skin's system seasonally.
After Winter our skin can feel a little under the weather. The sudden change in the environment, can be hard for our cells to adjust to. As the season begins to warm up, our skin can start to process additional oil and turn over it's cells more quickly. For this reason, we find it's the perfect time to invest in a facial.
Having a facial done, allows your skin to be flooded with nutrients, clear away any build up on the skin and allow the new cells to flourish.
This spring, we have custom designed our Spring Glow Facial to give your skin everything it needs to prepare itself for the warmer months. We begin your treatment with a beautiful and relaxing back exfoliation and massage, because we all know it's one of those places, we just can't reach ourselves!!
Once your feeling revitalised on your back, we turn you over to start your beautiful facial. Using a customised cleanser to suit your skin type, we will gently double cleanse your skin. Next we will boost your skin with our Mceutic treatment. A true beauty treatment inspired by the medical world, it delivers a tailor-made treatment in three sequences – a renovating peel, bio-regenerative infusion and corrective intervention – to restore youthful, plump and radiant skin quality, while respecting the skin's physiology. Your skin will be left soft, supple and ready for Spring.
Spring is also a great time of year to re-evaluate your skincare at home. Often a heavier moisturiser is needed during the cooler months, however it's always nice to give your skin a change and look at moving to a lightweight day cream and keep your heavier cream for night time, while you sleep. Adding in a Vitamin B or C Serum can also help fight against free radicals and keep the skin clear and bright during the warmer months.
Check your SPF is still within its expiry date, as this is really important to ensure you're going to receive maximum protection from the sun during the warmer months. The other key ingredient to your skin during spring is hydration from within, so aim to drink 3 litres of water a day to ensure your hydration levels are where they should be.
If you would like any help in how to best take care of your individual skin, we're always here to help. Pop in and see one of our friendly therapists in the Spa.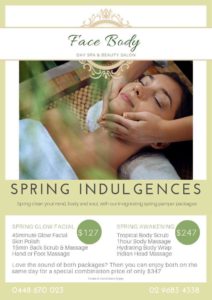 Learn More