Whether you love a good massage, facial or beauty treatment, there's a membership to suit!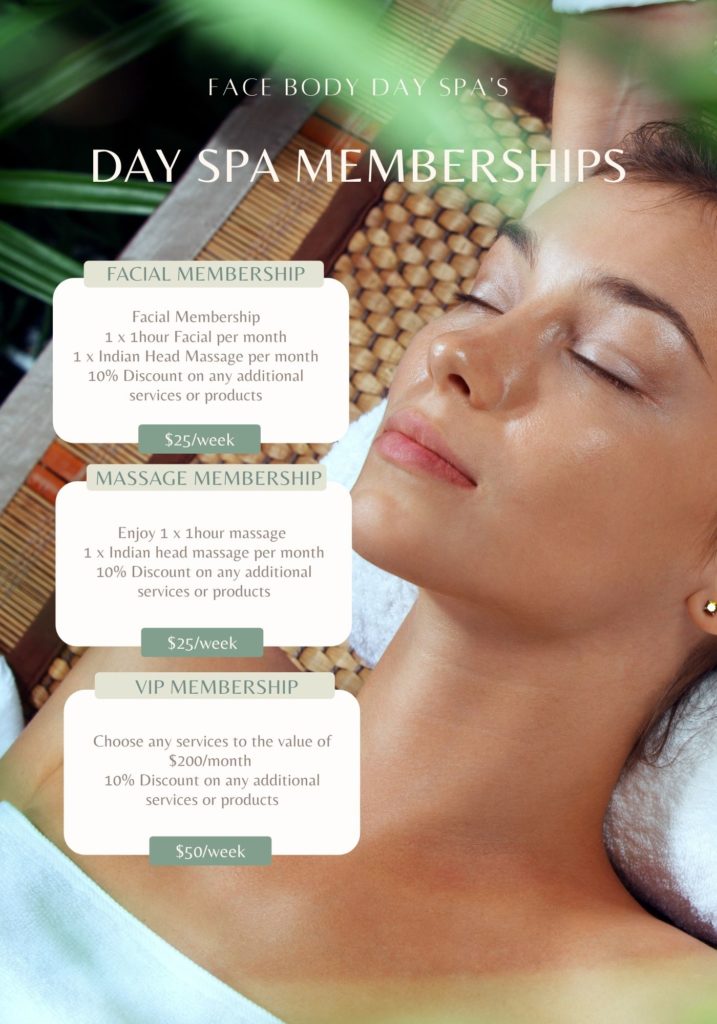 Why a Face Body Day Spa membership? We understand the pressures of day to day life, and we also know how much self care and overall wellness can impact on you.
We have created our memberships to help support you on your journey. Whether you're looking to keep you skin glowing and hydrated or you'd like to keep muscles aches and pains at bay, we have created a membership to suit.
How does it work?
Each month you can enjoy a visit to Face Body Day Spa at an affordable price. We have broken down your visit into smaller weekly payments to allow for you to easily prioritise self care. Just like a gym membership, you'll be able to visit us and not have to worry!
Our professional spa therapists deliver results in a peaceful, ambient setting to help you relax, refresh and renew every month!
Choose our facial membership if you love having your skin cared for. Choose our massage membership if you love having your knots and aches eased away. Or maybe you'd like to mix and match what you have each month, then our VIP membership is for you!
Your appointment can be pre-scheduled ahead of time and you'll also receive additional member perks such as 10% off all additional services and products at the Spa.
Our goal is to help make visiting our day spa easy and affordable. We deeply care for our clients and want you to see the benefits of how regular self care can enhance your life.

If you'd like to join, simply click the membership button below and follow the steps.
Please Note: membership cancellation must be a 30-day advance written notification. The minimum, non-cancellable, term of membership is three (3) months. For full details, please contact our team. View our terms and conditions here.